The rate of individual Prosperity Mark earnings increases on a tiered basis.
To receive Prosperity Marks, you need to successfully recruit new explorers.
Prosperity Marks are awarded based on referred player marketplace activity. Every primary market purchase (i.e. purchase directly from the lead Star Atlas developer team) generates Prosperity Marks. Prosperity Mark earning rates increase as you move up in the program.
Three-Tiered Structure
The reward earning rate increases as a referrer moves to higher tiers. Reward tier earning resets at the beginning of each calendar year. The following chart describes the tier earning criteria.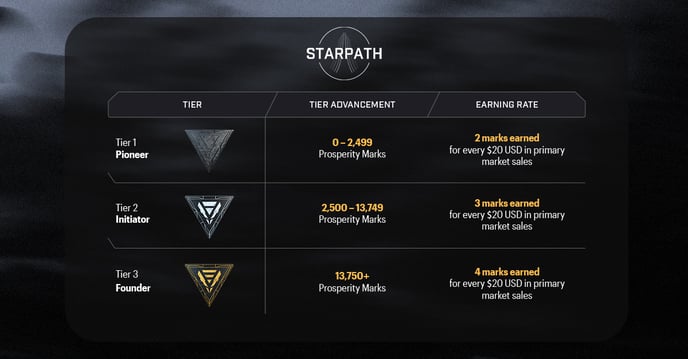 In a future release, you will be able to exchange your Prosperity Marks for ships and other in-game items for as long as supplies last.
The image below demonstrates the ship sizes you can get for a certain amount of Prosperity Marks.