Discover Star Atlas' Unique On-Chain Movement Mechanics
Star Atlas is testing its novel on-chain movement mechanics. This new technology is one of the pillars of our future metaverse. It requires intense testing from many players to stress the system we have created and guarantee its resilience for all the further programs built upon while developing the Star Atlas full game.
Test yourself in real-time, fully on-chain movement at scale, whereby each sector is an on-chain location on a cartesian coordinate system.
The Escape Velocity Campaign is a limited-time gaming experience within Star Atlas, designed to test movement mechanics in the upcoming SAGE browser game module. Participate in this exciting trial mini-game, explore cutting-edge real-time web3 technology, and find the loot while flying through space.
On-Chain Movement Mechanics
The primary goal of the Escape Velocity Campaign is to test Star Atlas' on-chain movement mechanics within SAGE. These mechanics are crucial for the future metaverse and require extensive player testing to ensure compatibility with the Star Atlas game's upcoming developments.
Players will experience real-time, fully on-chain movement within a Cartesian coordinate system, where each sector represents an on-chain location.
The Campaign Experience
During the Escape Velocity Campaign, players navigate the galaxy and scan for loot on a 100x100 grid of 10,000 on-chain sectors. Move to a location, scan the area, and potentially find loot, such as R4 resources, ATLAS, CORE covers, land, and ships.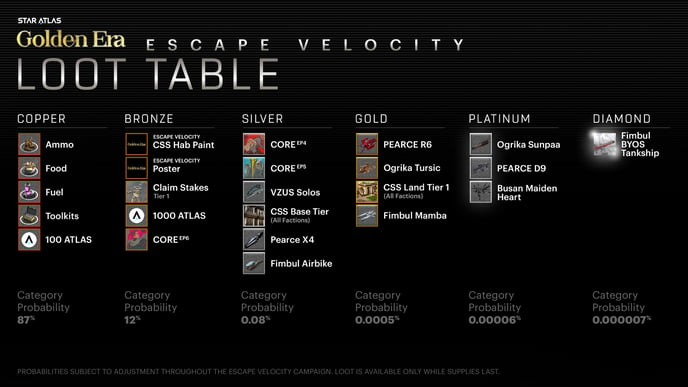 This engaging movement test experience offers players various opportunities to discover loot, unlock unique in-game assets, and contribute to the growth of the Star Atlas community.
Important Details about Escape Velocity Campaign
Escape Velocity is a stand-alone module intended to test movement mechanics in the SAGE game and provide temporary scavenger hunt gameplay.
The movement mechanics in the campaign do not represent the final game mechanics.
Escape Velocity will be available for a limited time only.
Escape Velocity Campaign's release is part of an iterative approach for 2023, consisting of various modules to expand SAGE's possibilities gradually.
Join the Escape Velocity Campaign, test the groundbreaking on-chain movement mechanics, and help shape the future of the Star Atlas metaverse!
Read the complete Escape Velocity Movement Test Rules.