How to do ship enlistment?
What is this "Seasoned Fleet" badge I have over my enlisted ship?
Fleet badges are earned based on how long you enlist your ship.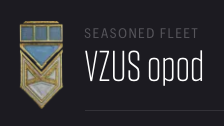 Seasoned Fleet badges and any other badges earned after that are seemingly just visual right now. They represent how long you've had your ships enlisted in SCORE. There are currently 4 fleet status badges. Seasoned (7 days), Hardened (28 days), Veteran (112 days) and Elite (224 days) which automatically get included in your SCORE mini-game browser.
Keep in mind that you lose your fleet badge if you withdraw your fleet from the faction.