StarPath is the most important collective endeavor in the galaxy, offering multiple rewards.
Find and recruit other like-minded individuals that would dare to brave the unknown. Grow our shared community and unlock rewards.
You will get rewards for inviting new space explorers on an individual and faction level.
After successfully recruiting new space explorers, you will receive Prosperity Marks. Once you have earned enough Prosperity Marks, you will be able to exchange them for Star Atlas ships.
The Individual Rewards Structure
For individual contributions, you will receive Prosperity Marks that you can exchange for Star Atlas ships for as long as supplies last. We have structured the referral program so that individual rewards are calculated on a tiered basis. This will enable participants to accrue rewards whether they can successfully recruit many new explorers or not.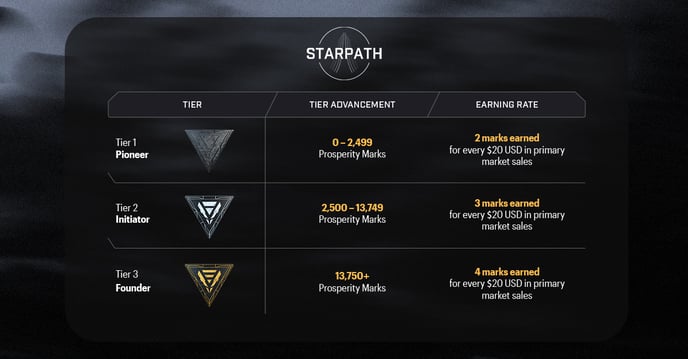 The Faction Rewards
Aside from the individual rewards points, we will also provide you with Faction Rewards, which might prove an interesting mechanism to boost your faction community building while challenging the other factions in the race for recruitment in Star Atlas.
The factions generating the most prosperity marks will receive an in-game bonus or boost in SCREAM or future Star Atlas releases.